HyperChrome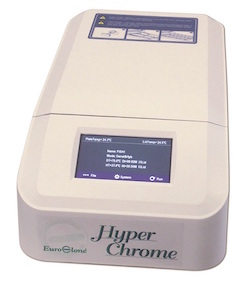 The perfect instrument for denaturation & hybridization procedures during FISH experiments.
HyperChrome allows both denaturation and hybridization eliminating the need to move the sample from one instrument to another. The heating surface has an accurate temperature control, and the humidity chamber allows to maintain a level of humidity sufficient to prevent dehydration of the probe.
HyperChrome
thus enables to obtain high quality and reproducible results.
---
SPL Hybridwell

NEW optimized supports for the
in situ
culture of amniocytes,
chorionic villi
derived cells, and other adherent cells.
Hybridwell allows to perform the
in situ
culture directly on a plastic slides, when the growth is optimal it is possibile to start immediately, avoiding the trypsinization step, chromosomal banding or molecular investigation (i.e. FISH).
---
SPL Cell Culture Slide

SPL has developed a NEW optimized supports for the in situ culture of amniocytes, chorionic villi derived cells, and other adherent cells.
These new supports allow to perform the in situ culture directly on the slides, that are treated to guarantee excellent cell attachment and growth, and at the end of the culture it is possible to perform immediately, avoiding the trypsinization step, chromosomal banding or molecular investigation (i.e. fluorescent in situ hybridisation, FISH). SPL uses for these NEW Cell Culture Slides a very smart assembly system, without using adhesive that could be cytotoxic or could create problems of breakage while detaching the Chamber from the slide.

---
ChromoLymphoB Proliferation Mix

ChromoLympho-B Proliferation Factor is a "new generation" proliferation reagent that, used in vitro together with IL2, in cultured peripheral blood/bone marrow cells from patients affected by CLL and other B-cell lymphoproliferative syndromes, has proved a very high success rate of metaphase analysis and more importantly, an impressive Abnormality Rate similar to Fish analysis findings.
ChromoLymphoB Proliferation Mix is composed by ChromoLympho-B Proliferation Factor plus IL2, Recombinant Human Interleukin-2, mixed in 1 tube.
---
Phytohaemagglutinin-M

Phytohaemagglutinin is a lectin extracted from red kidney beans (Phaseolus vulgaris). EuroClone PHA-M is the mucoprotein form, and contains potent cell agglutinating and mitogenic activities. It is most often utilized for the stimulation of cell division in lymphocyte cultures.
---
ChromoTube

ChromoTube are tubes with a flat side ideal for growing peripheral blood and bone morrow cells.
These tubes have been developed to be used in combination with our Chromosome Medium P (for peripheral blood) and M (for bone morrow): following a fast and easy protocol you'll reach high quality and standardized results for the chromosome preparation, and subsequent analysis (chromosomal banding or molecular investigation). The medium is retained in the flat-side of the tube that is incubated on the tray in horizontal position to provide increased surface for improved gas exchange and better growing performance of your cultures.
---